Healthcare Professionals
Temporary Housing for Healthcare Professionals & Traveling Nurses
You take good care of people all day; let us do the same for you. We understand the energy, emotional and time
demands on a travel nurse or healthcare administrator. Whether it's long and odd hours, the stressors of a new
hospital, or the realities of your compensation package, we have a safe and easy solution for you. We'll customize
our extended stay accommodations to fit your demanding life style:
One check (we pay your bills) means more time to relax after a long day/night's work.
Great community locations mean you're never far from work, no matter where that may be.
Quiet communities allow you to sleep when your schedule allows.
Our local service specialists can serve as virtual tour guides to your new city, and give advice on great places
to eat, relax or whatever your time-off enables.
We work closely with nursing placement consultants and companies to make payment quick and easy when a temporary housing allotment is part of your pay plan.
Before choosing your next assignment, allow Select Corporate Housing to arrange a fully furnished apartment
for your stay. To find out more or make a reservation, call 1-800-896-7290 now or click here to make a reservation.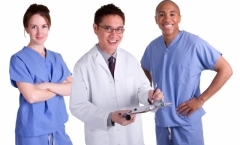 All-Inclusive furnished apartments near hospitals & medical centers for healthcare professionals