Consol Energy
1000 Consol Energy Drive
Canonsburg
,
PA
15317
Consol Energy - Corporate Housing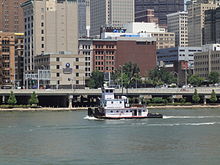 Consol Energy (headquartered in the suburb of Cecil Township, in the Southpointe complex, just outside of Pittsburgh PA) is the leading underground coal mining company and producer of coal in the US. As of 2011, Consol had 4.4 billion tons of proven reserves, mainly in northern and central Appalachia and produced nearly 64 million tons of coal in 2010. The company has natural gas reserves totaling 3.7 trillion cu. ft. as of 2011 and employs more than 8,800 people.
Furnished Apartment Rentals near Consol Energy
If you're relocating to Pittsburgh or Cecil Township to work at Consol Energy or complete a short-term project in the area, choose to stay in comfort with Select Corporate Housing's all-inclusive Pittsburgh PA Furnished Apartments! Our rentals are turnkey and available with flexible lease terms. Enjoy large floor plans, private bedrooms, and a home-like environment while you rent short-term in Pittsburgh.
Request a quote for a furnished apartment near Consol Energy.
Address
Javascript is required to view this map.