Augusta GA Furnished Apartments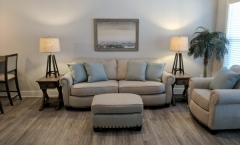 Furnished apartments in Augusta GA by Select Corporate Housing offer renters a more comfortable, more affordable extended stay hotel alternative for temporary housing. Our all-inclusive furnished rentals combine the comforts of home with the flexibility of an extended stay and resort like amenities. Because they can be rented short-term, our accommodations are ideally suited for large corporate relocation projects, individuals relocating to Augusta, TDY Lodging / Off-Base Military Housing, and corporate housing for those completing temporary job assignments.
Augusta GA Corporate Housing
Select Corporate Housing removes the hassle by handling all your housing needs. Our corporate apartments have all utilities included, first-rate apartment furniture, exclusive housewares, cable, wireless internet, full-size appliances, electronics, and a vast array of wonderful resort-styled amenities – all setup prior to your arrival. Simply move-in with your suitcase; we'll handle the rest. We make temporary housing & relocation easy by providing one monthly consolidated rent invoice. All major credit cards & government travel cards are accepted for rent & direct billing is offered to companies for corporate relocation projects. Our monthly & daily rates are within the standard per diem rates, making our fully-furnished apartments near Fort Gordon ideal for off-post lodging.
Temporary Housing in Augusta Georgia
Our turnkey furnished rentals are located in well-appointed apartment communities in Augusta & throughout the CSRA conveniently located near Ft Gordon for off-post lodging, near GRU (Georgia Regents University) & University Hospital for relocating healthcare professionals, near E-Z-GO, Club Car, and the region's top employers – making our temporary accommodations the perfect solution for today's business travelers. In addition to providing serviced apartments for today's professional, we also offer all-inclusive apartments to extended vacationers near the Augusta National Golf Course for Masters Housing. Relax & enjoy home cooked meals in your included gourmet fully-equipped kitchen, avoid the questionable laundry facilities by utilizing your full-sized in unit washer & dryer in your fully-equipped laundry room, rest by the sparkling pool or blow off some steam in the fitness center. You'll rest at ease in the privacy of individual bedrooms & spacious floor plans.
Contact our relocation specialists to request a quote and allow our local representatives to be your personal guide so that you will get the most from your Augusta corporate housing experience. Founded in Augusta, we are the area's only local corporate housing provider. View our office location.
Featured
Furnished Apartments in Augusta:
*See Also: Martinez Furnished Apartments | Evans Furnished Apartments | North Augusta Furnished Apartments